Jyotirlingas-Vaidyanath Temple
Vaidyanath Temple in Deogarh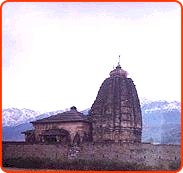 Vaidyanath Temple, also called Vaijnath Temple and Baidyanth Temple is located at Deogarh in the Santal Parganas region of Bihar in the south west of Keeul Station. Baidyanath shrine is revered as one of the twelve Jyotirlingams of Shiva. It may be noted that some schools of thought believe Vaidyanath near Parali in Andhra Pradesh to be the Vaidyanatha Jyotirlingam.Devotees of Lord Shiva believe that by sincere worship of Vaijnath Jyotirlinga a person is relieved of all worries and miseries in life. It is also said that by worshipping in the shrine a person attains Moksha and all types of happiness. As a tradition, devotees carry 'Kanwars' on their shoulders and complete their travel here.
Legend Behind Vaidyanath Temple
Legend has it that demon King of Lanka, Ravana meditated upon Lord Shiva, as he wanted to request him to come over to Sri Lanka and make his capital invincible. It is said that Ravana attempted to lift Mount Kailash and take it with him to his capital. However, Lord Shiva crushed it with his finger. Ravana prayed to him and sought his mercy, after which Bhagwan Shiva gave him one of the twelve Jyotirlingams on the condition that if it were placed on the ground it shall fix itself to the ground and shall remain there for eternity. Ravana thanked Lord Shiva and holding the Linga carefully started of to the Lanka. However, Varuna the God of Water, entered his belly and caused him to feel an urgent need to relieve himself. Vishnu then came down in the form of a lad and volunteered to hold the Jyotirlingam as he relieved himself. Before Ravana returned, Vishnu placed the Jyotirlingam on the ground and it became rooted to the spot. A disappointed Ravana offered severe penance to Shiva here, and cut off nine of his heads. Shiva revived him and joined the heads to the body, as if by the work of a Vaidya or a physician, hence this Jyotirlingam goes by the name Vaidyanath.
According to another legend, Vaidyanath is one of the 52 Shakti Pitha shrines of Sati. It is believed that the heart of Sati fell here, when her half burnt body being carried by Shiva at the end of Daksha's Yagna was chopped to pieces by Vishnu's discus.
Some people believe that this temple was re-discovered by a cowherd Baiju and hence named Baijnath.
Structure of Vaidyanath Jyotirlinga
Vaidyanath Temple at Deogarh houses a spacious courtyard bound by stone walls. In the temple complex are twenty-two other temples. The Baijnath or Vaidyanath temple faces east. The top of the Shiva Lingam is slightly broken, keeping with the legend that it chipped away when Ravana tried to uproot it. Near the temple is the Shivaganga Lake.
Baidyanath Jyotirlinga temple, also known as Baba dham and Baidyanath dham is one of the twelve Jyotirlingas, the most sacred abodes of Shiva. It is located in Deoghar in the Santhal Parganas division of the state of Jharkhand, India. It is a temple complex consisting of the main temple of Baba Baidyanath, where the Jyotirlinga is installed, and 21 other temples.[1]
According to Hindu beliefs, the demon king Ravana worshipped Shiva at the current site of the temple to get the boons that he later used to wreak havoc in the world. Ravana offered his ten heads one after the another to Shiva as a sacrifice. Pleased with this, Shiva descended to earth and cured Ravana who was injured. As he acted as a doctor, he is referred to as Vaidhya ("doctor"). From this aspect of Shiva, the temple derives its name.
Difficulty in identifying location of Baidyanath Jyotirlinga
'Baidyanatham chithabhoomau' [sivmahapuran kotirudra samhita 1/21-24] is the ancient verse that identifies location of vaidyanth jyotirlinga. According to which Baidyantham is in 'chidabhoomi', which is the ancient name of Deoghar. While, the same part of text has variation by which, verse is 'paralyam vaidyanatham', i.e., Vaidyanatham is in Parli, Maharashtra.
Thus the three temples of,
Baiydanath temple at Deoghar, Jharkhand,
Vaijnath temple at Parli, Maharashtra and
Baijnath temple at Baijnath, Himachal Pradesh are claiming their shrines as 'real' jyotirlinga of Vaidyanath.
In Dwadasa jyothirlinga sthothram, Adi Sankaracharya has praised Vaidyanath jyothirlinga in following verses,[2]
Poorvothare prajwalika nidhane
sada vasantham girija sametham
surasuraradhitha padapadmam
srivaidyanatham thamaham namami
This states that Vaidyanath jyotirlinga is located at Prajwalika nidhanam (meaning funeral place i.e., chithabhoomi) in the North-Eastern part of the country. Deoghar is far located in east compared to Parli which is in west central part of the country. Also Chidabhoomi indicates that, in olden days, this was a funeral place, where corpses are burnt and post-death ceremonies were performed. This place could have been a centre of tantric cults like Kapalika/Bhairava where Lord Shiva is worshipped significantly as smasan vasin (meaning, residing in crematorium), sava bhasma bhushita (meaning, smearing body with ashes of burnt bodies).[3]
Interestingly, the same shrine of Vaidyanath is considered as on of 51 Shakti Peethas, where 'yoni peetham' of jyotirlinga itself is considered as the Shakti Peetha.[3]
Jyotirlinga
As per Shiv Mahapuran, once Brahma (the Hindu God of creation) and Vishnu (the Hindu God of saving) had an argument in terms of supremacy of creation.[4] To test them, Shiva pierced the three worlds as a huge endless pillar of light, the jyotirlinga. Vishnu and Brahma split their ways to downwards and upwards respectively to find the end of the light in either directions. Brahma lied that he found out the end, while Vishnu conceded his defeat. Shiva appeared as a second pillar of light and cursed Brahma that he would have no place in ceremonies while Vishnu would be worshipped till the end of eternity. The jyotirlinga is the supreme partless reality, out of which Shiva partly appears. Thejyothirlinga shrines, thus are places where Shiva appeared as a fiery column of light.[5][6] Originally there were believed to be 64 jyothirlingaswhile 12 of them are considered to be very auspicious and holy.[4] Each of the twelve jyothirlinga sites take the name of the presiding deity – each considered different manifestation of Shiva.[7] At all these sites, the primary image is lingam representing the beginningless and endlessStambha pillar, symbolizing the infinite nature of Shiva.[7][8][9] The twelve jyothirlinga are Somnath in Gujarat, Mallikarjuna at Srisailam inAndra Pradesh, Mahakaleswar at Ujjain in Madhya Pradesh, Omkareshwar in Madhya Pradesh, Kedarnath in Himalayas, Bhimashankar inMaharastra, Viswanath at Varanasi in Uttar Pradesh, Triambakeshwar in Maharastra, Vaidyanath at Deogarh in Jharkand, Nageswar atDwarka in Gujarat, Rameshwar at Rameswaram in Tamil Nadu and Grishneshwar at Aurangabad in Maharastra.[4][10]
Legend
An 1870 watercolour showing worship of the Jyotirlinga in Deoghar
According to the stories narrated in the Shiva Purana, it was in the Treta yuga that the demon Ravana, king of Lanka, felt that his capital would not be perfect and free from enemies unless Mahadeva (Shiva) stays there forever. He paid continuous meditation to Mahadeva. Ultimately Shiva got pleased and permitted him to carry his lingam with him to Lanka. Mahadeva advised him not to place or transfer this lingam to anyone. There should not be a break in his journey to Lanka. If he deposits the lingam anywhere on the earth, in the course of his journey, it would remain fixed at that place forever. Ravana was happy as he was taking his return journey to Lanka.
The other gods objected to this plan; if Shiva went to Lanka with Ravana, then Ravana would become invincible and his evil and anti-vedic deeds would threaten the world.
On his way back from Mount Kailash, it was time for Ravana to perform sandya-vandana and he could not carry out sandya-vandha with Shiva linga in his hand and therefore searched for someone who could hold it for him. Ganesha then appeared as a sheperd who was rearing sheeps nearby. Ravana requested Ganesha pretending as shepherd to hold the linga while he completes sandya-vandana and also guided him not to place the linga on ground at any movement. Ganesh warned Ravana about leaving the linga on the bank of the river and walking away if he doesnot return soon. Ganesha, pretending to be vexed by Ravena's delay, set the linga down on earth. The moment linga was kept down, it got fixed to the ground. When Ravana after returning from sandya-vandana tried to move the linga, but he could not. Ravan failed miserably in his attempt to uproot the linga. The Gods were happy with Shiva linga not reaching Ravana's place.
Shravan Mela
More than a million pilgrims visit this shrine every year. It is famous for the mela of Shraavana (a month of the Hindu calendar), between July and August. About 7 to 8 million devotees visit the place from various parts of India and offer holy water of Ganges to the deity collected from Sultangunj, which is almost 105 km from Deoghar. An unbroken line of people in saffron-dyed clothes stretches over the full 104 km for the month. The pilgrims are called Dak Bam and they do not stop even once in their journey from Sultangunj, located near Bhagalpur to Vaidyanath. Pilgrims to the temple later visit the Basukinath temple.[11][12]
Yatra Video
http://www.youtube.com/watch?v=wb-fsGvcEpU
vaidyanatha ashtakam
Jyotirlingas-Vaidyanath Temple
No categories