Jyotirlingas-Nageshwar Temple
Nageshwar Temple in Dwarka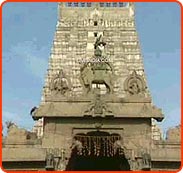 Nageshwar Temple or Nagnath Temple is located on the route between Gomati Dwarka and the Bait Dwarka Island on the coast of Saurashtra in Gujarat. The Jyotirlinga enshrined in the Temple of Nagnath is known as Nageshwar Mahadev and attracts thousands of pilgrims all round the year. This powerful Jyotirlinga symbolizes protection from all poisons. It is said that those who pray to the Nageshwar Linga become free of poison. The Rudra Samhita sloka refers to Nageshwar with the phrase 'Daarukaavane Naagesham'.
Legend Behind Nageshwar Temple
According to Shiv Purana, a Shiva devotee by name 
Supriya
 was attacked by a demon 
Daaruka
 while in a boat. The demon imprisoned him along with several others at his capital Daarukaavana where he resided with his wife Daaruki. Supriya advised all prisoners to recite the mantra 'Aum Namaha Shivaya'. When Daruk came to know about this he ran to kill Supriya. Instantly Lord Shiva appeared in the form of a Jyotirlingam and vanquished the demon with the Paasupata Astram.
This Jyotirlinga manifestation of Shiva is worshipped as Nageswara. Two other sites in India, one near Audhgram near Purna in Andhra Pradesh and another near Almora in Uttar Pradesh also enshrine temples to Nageswara Jyotirlingam. According to the Shiv Purana, any one who ever with devotion reads the birth and greatness of this Jyotirlinga shall beget all material happiness and divine status in the end.
Structure of Nageshwar Temple
Nageshwar Mahadev Sivalingam is facing South while the Gomugam is facing east. There is a story for this position. A devotee by nameNaamdev was singing bhajans in front of the Lord. Other devotees asked him to stand aside and not hide the Lord. To this Naamdev asked them to suggest one direction in which the Lord does not exist, so that he can stand there. The enraged devotees carried him and left him on the southside. To their astonishment, they found that the Linga was now facing South with the Gomugam facing east.
Nageshvara Jyotirlinga is one of the 12 Jyotirlinga shrines mentioned in the Shiva Purana (Śatarudra Saṁhitā,Ch.42/2-4, referred as "nagesham darukavane"). Nageshvara is believed as the first Jyotirlinga on the earth. There are three major shrines in India which are believed as identical to this Jyotirlinga. Those are the Jageshwar temple near Almora in Uttarakhand state, the Nageshwara temple near Dwaraka in Gujarat state and the Nagnath temple in Aundha in Maharashtra state.
Jyotirlinga
As per Shiv Mahapuran, once Brahma (the Hindu God of creation) and Vishnu (the Hindu God of saving) had an argument in terms of supremacy of creation.[1] To test them, Shiva pierced the three worlds as a huge endless pillar of light, the jyotirlinga. Vishnu and Brahma split their ways to downwards and upwards respectively to find the end of the light in either directions. Brahma lied that he found out the end, while Vishnu conceded his defeat. Shiva appeared as a second pillar of light and cursed Brahma that he would have no place in ceremonies while Vishnu would be worshipped till the end of eternity. The jyotirlinga is the supreme partless reality, out of which Shiva partly appears. The jyothirlinga shrines, thus are places where Shiva appeared as a fiery column of light.[2][3] Originally there were believed to be 64 jyothirlingas while 12 of them are considered to be very auspicious and holy.[1] Each of the twelve jyothirlinga sites take the name of the presiding deity – each considered different manifestation of Shiva.[4] At all these sites, the primary image is lingam representing the beginningless and endless Stambha pillar, symbolizing the infinite nature of Shiva.[4][5][6] The twelvejyothirlinga are Somnath in Gujarat, Mallikarjuna at Srisailam in Andhra Pradesh, Mahakaleswar at Ujjain in Madhya Pradesh, Omkareshwar in Madhya Pradesh, Kedarnath in Himalayas, Bhimashankar in Maharastra, Viswanath at Varanasi in Uttar Pradesh, Triambakeshwar in Maharastra, Vaidyanathat Deogarh in Jharkand, Nageshvara Jyotirlinga at Dwarka in Gujarat, Rameshwar at Rameswaram in Tamil Nadu and Grishneshwar at Aurangabad inMaharastra.[1][7]
The narratives on Nageshvara Jyotirlinga
The Shiva Purana says Nageshvara is in the Darukavana, which is an ancient epic name of a forest in India. Darukavana finds mention in Indian epics like Kamyakavana, Dvaitavana, Dandakavana,etc.
According to a narrative, the Balakhilyas, a group of dwarf sages worshipped Shiva in Darukavana (Dwarka – Van means Forest of Dwarka) for long time. To test their devotion and patience,Shiva came to the Darukavana as an digambara (nude) ascetic, wearing only Nagas[serpants] in his body. Wives of sages were attracted and ran after the ascetic, leaving back their husbands. Sages got very disturbed and frustrated with this. They lost their patience and cursed ascetic to loose his linga. Shivalinga fell on the earth and whole world trembled. Brahma and Vishnu came toShiva, requested him to save earth from destruction and take back his linga. Shiva consoled them and took back his linga.(Vamana Purana Ch.6 and 45)
Shiva promised his divine presence in Darukavana as Jyotirlinga for ever. Later Darukavana became favourate place of Nagas and Vasuki worshipped Shiva here for long and there after the Jyotirlinga came to be known as Nagnath or Nageshvara.
Also, there is a narrative in the Shiva Purana on the Nageshvara Jyotirlinga. It says, a demon named Daaruka attacked a Shiva devotee by name Supriya and imprisoned her along with several others in his city of Darukavana. This place was a city of snakes and Daaruka was the king of the snakes. On the insistence of Supriya, all the prisoners started to chant the holy mantra of Shivaand instantly Lord Shiva appeared and vanquished the demon and later started to reside here in the form of a Jyotirlinga.
It is also said that a demoness 'Daaruka' and worshiped Mata Parvati. Pleased with the great penance and devotion of Daruka, Mata Parvati gave her a boon that she would be the queen of the forest(where she meditated) and the forest would be called 'DARUKAVANA'. Devi Parvati gave her the power to shift the forest.To save denoms, Daruka used her special powers she had got from goddess Parvati. She shifted the entire forest into the sea. From here they continued their operation against hermits. They used to kidnap sages and kept them in their new place. Once they captured a great Shiva devotee, Supriya.
Arrival of Supriya changed the situation. He made all captives recite powerful Om Namaha Shivay mantra of Lord Shiva. Taking this as a rebellion, demons decided to kill Supriya, but they failed as Lord Shiva appeared there and saved him. Daruka realized her mistake. Then Shiva and Parvati stayed there. Lord Shiva once again assumed the form of Jyotirlinga with the name Nageshwar and Goddess Parvati was known as Nageshwari. Lord Shiva said that he will show the correct path to one's who will worship him.
Aarti video
Jyotirlingas-Nageshwar Temple
No categories