Jay Durga Vaidyanath Shakti Peet Mantras, Story, Video, Location, How To Reach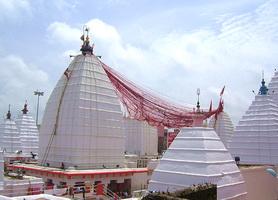 Jay Durga– Vaidyanath Dham Body Part—Heart Devi Jaydurga Place at Baidyanath Dham Jyotirlinga
Shakti peeth Deoghar is commonly known as Biadyanath Dham. This is one of the important Hindu pilgrimages which has one among the famous 12 jyotirlinga.
Jay Durga Temple at Baidhyanath Dham Temple7 km from Jasidi Railway station at Baba Dham Temple upon the Jyotirlinga. On Howarh—Delhi Mainline
Jaya durga (Vaidyanatha):India>Jarkhand>Deogarh district>Deogarh>Temple of Vaidyanath (Baba mandir).The nearest railway station is Deoghar, which is a terminal station of a 7 K.m branch line, originating at Jasidih junction on the Howrah-Delhi main line.Jaidurga Shaktipeeth is present exactly opposite to the main temple of Vaidyanath, in the same campus.
Baidyanath – Jai Durga is one of the Shakti Peeth. Heart of mata Shakti had fallen at this place. Here, Devi Shakti is worshipped with the name of Jai Durga. And lord Shiva is known as Baidyanath.
There is an ancient story related to the establishment of this Shakti Peeth.
Baidyanath – Jai Durga Shakti Peeth Foundation Story
Goddess Sati was married to lord Shiva. She was the daughter of king Daksha. And, king Dasha did not like lord Shiva. Daksha was proud about his position and rank. Once he organised a Yagya. all God and Goddesses were invited in this Hawan, apart form Goddess Sati and her husband lord Shiva.
Devi Sati could not bear this disrespect of her husband. So, she jumped in the Hawan Kund (fire furrow) and died. hearing about this incident, lord Shiva became very angry. Shiva started roaming in the whole universe with the dead body of his wife. On the request of other deities,lord Vishnu had made 51 parts of Sati's dead body. The places of Asia where these body parts fell were given the name as Shakti Peeth. After wandering in the whole universe, lord Shiva took the Samadhi at mount Kailash.
Out of the famous 51 Shakti Peeth, Baisyanath – Jai Durga Shakti Peeth is one of them. This is located at Devghar, Jharkhand.
Chitabhumi : Other Name of Jai Durga Shakti Peeth
Baidyanth – jai durga Shakti Peeth is known as Chitabhumi. It is said that while lord Shiva was wandering in the universe with the body of Sati, heart of Sat had fallen at this place. That time, lord Shiva performed the cremation of her heart. hence, this place is called Chita Bhumi.
Jai Durga Shakti Peeth Belief and Importance
Baidyanath Shakti Peeth is the not just a Shakti Peeth, but also, an auspicious place where a person gets relieved from disease of leprosy. It is believed that the person who visit this place, he gets freedom from all sorts of disease and all kinds of sins. Bad or negative thoughts are removed from a persons brain. Individual gets a spiritual growth. Hence, it is called Baidyanath.
Description:During the journey of Lord Shiva with the death body of his wife Sati, heart of Devi fell down in Shakti Peeth Deoghar. The idol of Goddess is known as Jai Durga whereas Lord Shiva here is known as Vaidyanath. In some places it is pronounced as Baidyanath. The Devine tourist spot is really famous for one among the 12 jyotir linga.
Special information about this Place: the famous pilgrimage as well as tourist spot is also known for mela of Shravan. During the month of July and August more than 8 million devotees gather and get the holy water from Ganges. Unbroken line of people are seen to wear cloths with saffron color and travel over 108 km in a particular month. People get all their desire fulfilled in this regard.
The temple of Baidyanath or Shiva is the most vital important temple in the state. The temple is 72 feet tall white plain old structure with spreaded small temples dedicated to various Gods.
The top holds several rising shaped gold vessels that are minimally situated, and were given by the Maharaja of Giddhaur. In addition the proposed pitcher shaped vessels, there is a Punchsula which is extraordinary. In the inward best there is an eight lotus gem called Chandrakanta Mani. The lingam instituted inside, is of a barrel shaped structuring about 5 crawls in width and activities about 4 creeps from the focal point of an impressive section of basalt. It's not plausible to learn what amount of the lingam is covered. The top is broken and has uneven surface.
How to reach
Babadham is located in north-eastern Jharkhand, four miles from Jasidih railway station on the main line of the Eastern Railway from Howrah to Delhi. There is a small railway branch line from Jasidih to Babadham. The railway station at Babadham is called Baidyanath Dham.
Babadham stands near the G.T. Road connecting Calcutta with Delhi. From the G.T. Road, you can take a turn to the state road at Bagodar or at Dumri. Devotees coming down from Kolkata or other parts of West Bengal can take the route via Jamtara.
In the North-East Dumka, Rajmahal and Bhagalpur; in the North-West Munger; in the West Hazaribag and in the South Giridih district border the region.
Check out the detailed map of Jharkahnd
Passenger buses run regularly from Ranchi, Jamshedpur, Hazaribag, Bhagalpur, Dumka, Patna, Gaya, Munger, and other places in Jharkhand and Bihar to Deogarh. Taxis and Rickshaws are available at Babadham and at Jasidih railway station.
Nearby Airports are – Ranchi, Gaya, Patna and Kolkata.
By Road
By road Babadham (Deoghar) to Kolkatta 373 kms, Giridih 112 kms, Patna 281 kms, Dumka 67 kms, Madhupur 57 kms, Shimultala 53 kms etc.
Approximate journey time is 6 hrs from Munger,Ranchi, Dhanbad; 3 hrs from Sultanganj and 4 hrs from Bhagalpur & Hazaribag.
Road Routes
From Baba Baidyanath Dham to Patna :
(i) Deoghar-Jasidih-Chakai-Kodarma-Nawada-Biharsarif-Bakhtiyarpur-Patna.
(ii) Deoghar-Jamui-Sikandra-Nawada–Biharsarif-Bakhtiyarpur-Patna.
(iii) Deoghar-Jamui-Sikandra-Sekhpura-Barbigha-Biharsarif-Bakhtiyarpur-Patna.
(iv) Deoghar-Chakai-Jamui-Lakhisarai-Barahiya-Mokama-Barh-Bakhtiyarpur-Patna.
From Baba Baidyanath Dham to Ranchi :
(i) Deoghar-Sarath-Madhupur-Giridih-Dhanbad-Chas-Bokaro-Ramgarh-Ranchi
(ii) Deoghar-Madhupur-Giridih-Dumri-Bagodar-Hazaribagh-Ranchi.
(iii) Deoghar-Sarath-Chitra-Jamtara-Chitranjan-Maithon-Dhanbad-Bokaro-Ramgarh-Ranchi.
(iv) Deoghar-Dhanbad-Chas-Chasmor-Muri-Silli-Ranchi.
(v) Deoghar-Devipur-Bengabad-Giridih-Dumri-Bagodar-Hazaribagh-Ramgarh-Ranchi
(vi) Deoghar-Chakai-Rajdhanwar-Sariya-Bagodar-Hazaribagh-Ramgarh-Ranchi.
From Baba Baidyanath Dham to Kolkata :
(i) Deoghar-Sarath-Chitra-Jamtara-Chitranjan-Asansol-Durgapur-Kolkata.
(ii) Deoghar-Dumka-Masanjor-Siudi-Saintiya-Pannagarh-Burdwan-Kolkata.
By Rail
The nearest railway station is Jasidih (10 kms) on Howarah – Patna – Delhi line.
Video
Jay Durga Vaidyanath Shakti Peet Mantras, Story, Video, Location, How To Reach
No categories