Bahula Maa Shakti Peet Mantras, Story, Video, Location, How To Reach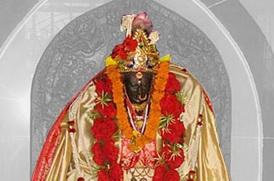 Shakti Peeth Bahula is also one of the famous pilgrimages that is laid down near the bank of Ajay river.
Shakti Peethas is situated at Bhardhaman district near Katwa in West Bengal, India. The holy place is dedicated to a divine power "Goddess Durga", who is worshipped by a large number of Hindu devotees. It is believed that Devi Sati's 'Left Arm' fell here.
Alternatively, a legendary Siddha peetha of a divine power is worshipped as a supreme power of Durga Shakti"Goddess Bahula" (lavish) by the millions of devotees from all over the country, who visit this prehistoric divine temple every year.
History:
An awe-inspiring power of the Universe – "Bahula shakti peetha" is one of the historic places in India, where the divine power is worshipped as a Devi Shakti by Hindu devotees and daily offered with sweets and fruits in the morning.
According to the Hindu mythology, it is whispered that Devi Sati's "Left Arm" fell here. The main idols of this legendary divine place are Devi as "Bahula" (lavish) and Lord Shiva as "Bhiruk" (sarvasiddhidayak), worshipped here. The holy place is dedicated to Maa Durga and Lord Shiva.
Festivals and Fairs:
The most important religious festivals celebrated at the holy place are –"Durga puja" is held with other special rituals and yagna, "Kali puja" (in Ashwin), "Maha Shivaratri" and "Navaratri". Additionally, the most important fairs are held – Shivratri fair and Navaratri fair.
Other significant adjacent places:
Here, several other momentous places are situated near holy temple – Konkaleshwari Kali mandir (dedicated to Goddess Kali), Sharine of Sarvamangala and Shivlingam temple (dedicated to Lord Shiva).
Temple timing: From 6 am to 10 pm daily.
Place: Shakti Peeth Bahula is placed in west Bengal near Katwa. The village where the popular temple is located is Ketugram. People willing to visit the place from Kolkata have to cover a distance of 190 km. It would be an added advantage for individuals who will be travelling from Bardhaman. From here the temple is just 56 km.
Description:Shakti Peeth Bahula is really famous among the people of the nation just due to the fact that the left arm of the goddess has fallen down in this particular place. The idol of Devi is known as Bahula and Lord Shiva is designated as Bhiruk. The word Bahula would mean abundant where as Biruk means a personality who is also known as Sarvasiddhidayaka.
Special information about this Place: The popular Shakti peeth is really famous in Ketugram. Individuals have to drop down at Katoa rail station and reach ketugram easily. Goddess fulfills all desires of individuals over here.
http://www.youtube.com/watch?v=_LLpEiUDf0g
Bahula Maa Shakti Peet Mantras, Story, Video, Location, How To Reach
No categories